Our services
The way to your own composite pressure vessel
Eckert Composite ­Solutions
We are your one-stop shop for everything. From the initial concept to the start of series production – you can count on our professional support.
STUDY
A study at the start of a project gives the customer a detailed insight into the range of possible applications for composite pressure vessels and supports decision-making over the course of the project.
We develop the following topics as part of the study and present them in a collaborative workshop with the client:
History of composite pressure vessel development
Overview of the various applications on the market
General structure of a composite pressure vessel
Components of composite pressure vessels and their manufacture

Liner – materials and properties
Boss design – options and limitations
Composite – materials, properties, and processing
Accessories such as drop protection, casing, etc.

Production steps with layout examples
Standards and certification of composite pressure vessels for specific fields of application
Production testing to assure quality (derived from the applicable standards)
Costs for production equipment and parts on the basis of simplified cost accounting (detailed cost calculation only takes place once all framework conditions have been defined)
Realization periods for composite projects
Once the study has been completed, we work with the customer to define and document a project specification for the product. This provides a foundation for further planning and the start of the development phase.
DEVELOPMENT
During the development phase of a pressure vessel, the project specification developed in the study is used as a basis to draw up an initial concept for the inner liner, composite, boss, valve, sealing concept, drop protection, and casing design (e.g. as required for LPG and other gas applications). If no study has been produced, the client's specification will be used as the basis for further planning.
After completion of the development phase, the following parameters are presented to the client:
Liner and boss concept as 3D model – first draft
Various casing designs (for LPG)
Stress distribution across the individual winding layers at working pressure
Filling pressure
Design pressure
Calculated burst pressure
Container diameter unpressurized and pressurized
Container length unpressurized and pressurized
Composite material thickness (fiber layers)
Liner wall thickness
Liner weight
Boss dimensions
Boss weight
Total mass of type IV composite pressure vessel
Fiber content
Resin content
Storage volume unpressurized and pressurized
Total weight of type IV composite pressure vessel
Item cost (raw materials)
During the development phase, a first draft of the composite pressure vessel is also produced, which is then detailed in the subsequent design phase.
Once the development phase is complete, an initial manufacturing concept can be drawn up to determine the total costs for the production line. To do this, the required production and testing equipment is developed, and a layout concept created.
Throughout the entire product development cycle, we place particular emphasis on close coordination and continuous communication with our customers in order to achieve the best possible outcome.
DESIGN
The following work is performed during the design phase:
Detailing the 3D design
Optimizing the laminate design based on analytical and numerical design methods
Finite element analysisof the whole composite pressure vessel (inner liner, composite, boss) to simulate its response under static and dynamic pressure loading
Performing winding simulations to evaluate manufacturing feasibility and machine control
Deriving item drawings
Calculating item costs
PROTOTYP
The production of precise, functional prototypes is an essential foundation for the future series production of composite pressure vessels. We manufacture technical prototypes using a wide range of manufacturing processes (blow molding, injection molding, rotomolding). The valuable experience we gain from manufacturing and testing the prototypes is then incorporated into the subsequent series production planning.
Our prototypes are not mere models but are designed for practical use. As a result, we gain valuable insights into the functionality and durability of composite pressure vessels.
In addition to the production of prototypes, our suppliers can also arrange series production on request.
TEST/ CERTIFICATION
There are a multitude of regulations and standards that must be taken into account for the various applications of type IV composite pressure vessels. In advance of the project, the necessary approval requirements are agreed and defined based on the customer's specific intended application. The composite pressure vessel is then designed on the basis of these regulations.
We have a worldwide network of partners and suppliers. This enables us to provide all the tests required for the approval of composite pressure vessels. We also support our customers in the certification of composite pressure vessels up to approval and the commencement of series production.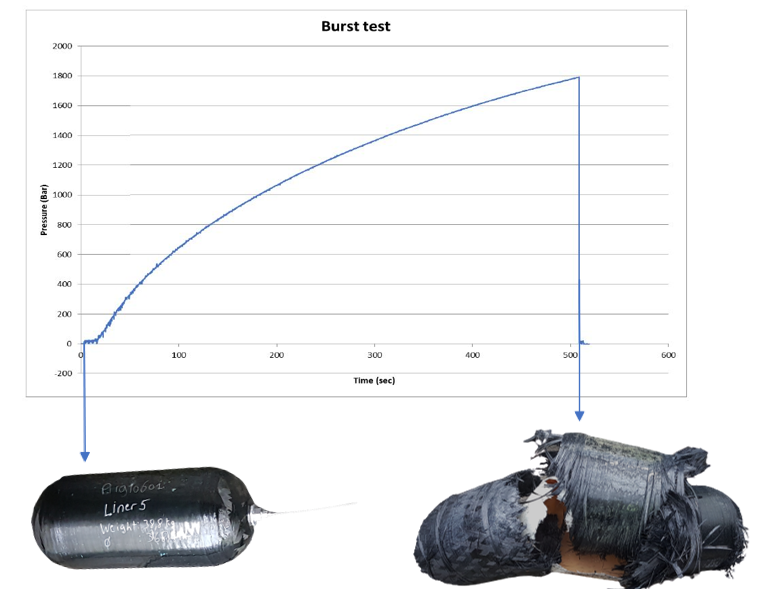 PRODUCTION
With our engineering team and a worldwide network of expert partners and suppliers covering a wide variety of fields (production and testing equipment, certification, raw materials, etc.) we can always offer a solution that is perfectly suited to the customer's needs. It is our intention not only to develop a good product, but also to be able to handle the entire manufacturing process. In this way, we guarantee our customers as well as ourselves more security and transparency for the future production process as early as in the initial planning phase.
An overview of our services:
Preparation of a manufacturing concept that is individually tailored to the customer with all necessary production and testing equipment
2D/3D layout planning
Selection of suitable suppliers for production and testing equipment as well as raw materials
Creation of technical specifications / requirements
Procurement of offers for production and testing equipment for the entire production line
Cost analysis (creation of project budget)
Support with setting up the production line
Support with the certification process
Launch management, item optimization
General project management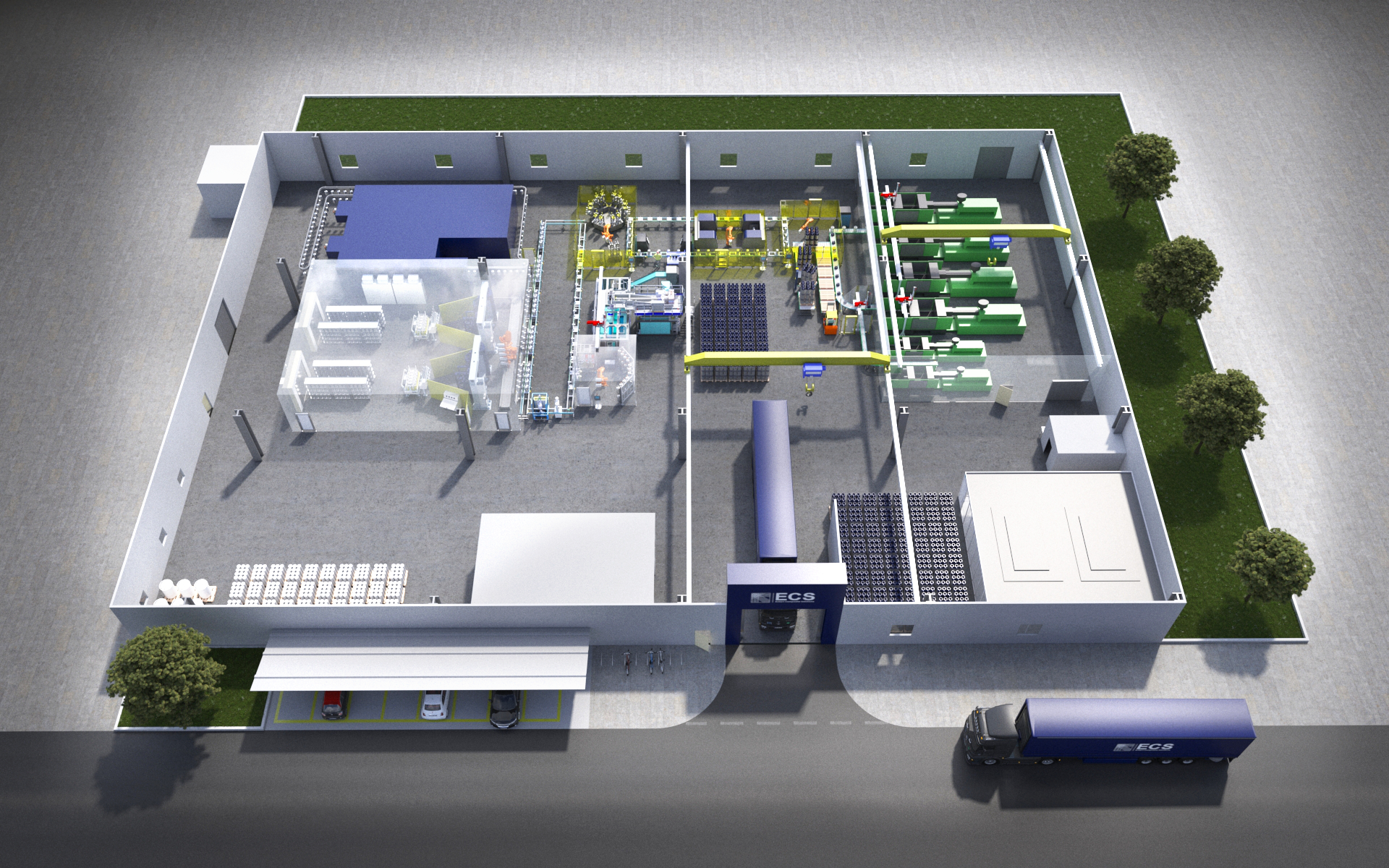 Production line for LPG type IV composite pressure vessels and casings
We are your one-stop shop for everything. From the initial concept to the start of series production – you can count on our professional support.